Ever purchased something in a duty-free shop? Then you know that it is not a simple pay-and-you-go situation: you also have to present your travel document and the cashier submits some of its data to the system. But why is that? Not only you have wondered about this. Many raise questions via forums, someone asks on Tripadvisor:
'Why does the duty-free shop at the airport scan my passport? I can understand it when you are purchasing liquor, but to buy a wooden puzzle… I had to go to our gate to find hubby with bags to get mine to buy an $8.50 puzzle.'
Duty-free duties
The answer is simple. In order to sell things duty/tax free, there are regulations that vary depending on the local laws about how the shop must confirm that a passenger is indeed departing to an international flight, thus he/she is allowed purchase goods duty/tax free – as opposed to (for example) someone that simply works at the airport and must pay taxes after the purchase. The exact requirements vary per countries and shops, but frequently include data like name and/or travel document number of the customers, and/or the number and date of their flight.
The time, required for submitting this data adds up quickly, as we talk about several seconds but even a minute depending on the local policy. At the end of the day, it turns out that a remarkable part of the day was spent only for this administration task – instead of offering a seamless customer experience.
Automation is our friend
SM Duty Free, located in South Korea, decided to cut back this time and automate the process: using handy ID scanner devices. This way, passports, visas, flight tickets and other travel documents are scanned within a blink of an eye and the data is immediately submitted to the system.
It works with Optical Character Recognition – a software that recognizes text and transform image information to digital characters. It sounds simple – but there is nearly 30 years' development and expertise behind it.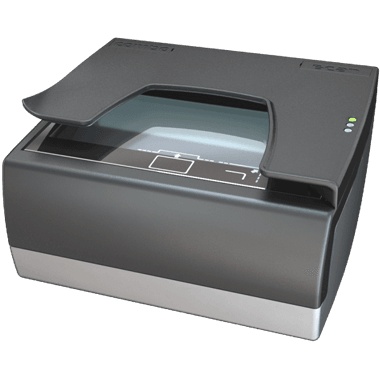 Combo Scan ID & Passport Scanners
Almost the same size as your palm but types guest data ~150x faster
Automatic ID data extraction
Ultra-compact design
No moving parts included
Powered via USB
Security as well
These devices are favoured not only by duty-free shops, but also convenience stores and liquor / tobacco shops, where the purchase of specific goods is limited by age. The best way to confirm age is the date of birth information from the identity documents – and these processes are also getting automated by ID scanners at more and more locations. The cashier just scans the document and the system immediately confirms the age, while it saves the ID image for future security purposes.
As a local news portal writes:
Han Gi-ji, Gyeonggi GTV
By selling alcohol or cigarettes to minors under current law, the shops will not only stop business, but also get fined and given criminal penalties. Because of these problems, more and more shops are installing 'ID card discriminators'…
In addition to age verification, these ID scanners are capable of verifying the ID's authenticity as well, so documents that were altered in any way (or copied) are filtered out via the scanning process. Shop owners realized two important factors:
they cannot expect from cashiers to be an expert of ID security
transactions with fake IDs will cost them major losses
Such ID scanner turned out to be a remedy for both.
This solution is widely used in the Myeong-dong area in South Korea, in convenience and retail shops, including the popular CU Convenience Store.
We encourage our Korean readers and speakers of the language to check further materials in the topic:
A short video presentation by the company (Dawin) who integrated the solution based on our technology: